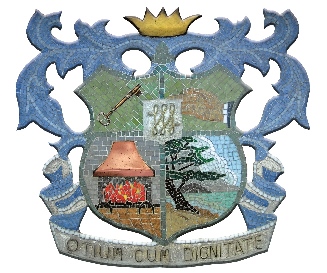 Hofsas House Hotel
Between 3rd & 4th Ave
on San Carlos Street.
P.O. Box 1195
Carmel-by-the-Sea, CA 93921
Phone: (831) 624-2745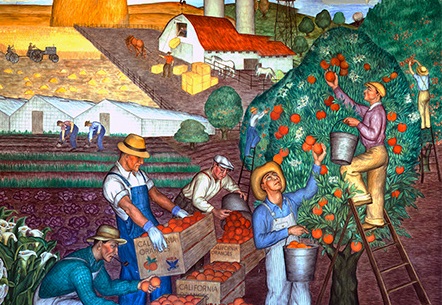 Hofsas House Featured Artist - Maxine Albro:

Maxine Albro was commissioned by Donna Hofsas to paint the welcoming mural and the headboard featured in room 47.

In the 1940s and 1950s, Maxine was living in Carmel and was friends with Donna. After the main four-story addition to the Hofsas House was complete in 1957, Donna asked Maxine to paint the mural and add other highlights to the front of the building to enhance the Bavarian theme.

Maxine also painted the three pictures hanging in the lobby. Maxine Albro was born on January 20th, 1903 in Iowa. Her family was from a Spanish background. Albro did not live in Iowa for long and moved to Los Angeles with her family while she was still very young. As a result, most of her upbringing took place in California. Moreover, in 1920, Maxine Albro graduated from high school and moved to San Francisco, CA.

While in San Francisco, Albro worked as a commercial artist in order to raise money for her formal art training. After saving sufficient funds, Albro enrolled at the California School of Fine Arts in San Francisco from 1923 to 1925. The following year, Albro spent one winter at the Art Student League in New York. Her studies did not end there, in fact, shortly after she completed her schooling in New York, Albro studied for a year at the Ecole de la Grand Chaumière in Paris in 1927.

After completing her formal art education, Albro took a trip to Mexico where she learned how to paint frescos. Although Albro did not study directly with Diego Rivera, she later painted several murals in San Francisco by his side. Nevertheless, Albro was exposed to his work in Tehuantepec, Mexico and was influenced by his stylized figures. In addition, Albro received individual instruction from one of Diego Rivera's assistant, Paul O'Higgins. While being influenced by Diego Rivera's work, Albro also began to exhibit her work. In 1925, Albro exhibited some of her oil paintings at the San Francisco Art Association, and in 1931, at Delphic Studios in New York.

Throughout the 1930s, Maxine Albro executed many commissions under programs of the New Deal such as the Federal Works of Art Project and the Works Progress Administration. She was one of the first women artists to be hired as a muralist for this national project. Due to the high rate of unemployment during the Great Depression, these art programs were required to hire a large portion of women artists, making this period the first time in history in which women were hired without discrimination.

Furthermore, the most significant commission Albro executed in her career was a mural at Coit Tower in San Francisco. In January 1934, she began to paint her fresco at the newly completed Coit Tower on Telegraph Hill. By June 30, 1934, Albro had completed her work, a 10 ft by 42 ft mural depicting California agriculture life, a portion of it is shown above.

In 1938, Maxine Albro married Parker Hall, an artist who worked under the PWAP as well. After getting married, Albro moved to Carmel, CA. During the 1940's, Albro and Parker traveled throughout Mexico, particularly, Mexico City and Guadalajara. As a result, most of her work consisted of Mexican subject matter, which she was best known for.

Moreover, throughout her career she joined several institutions such as the Carmel Art Association, California Society of Mural Artists, Congress of American Artists, and the California Art Club.

On July 19, 1966, Maxine Albro died in Los Angeles, CA.

As a tribute to Maxine, we commissioned local artist Christine Sorensen to touch up a headboard and valence, faux paint the walls, enhance the end tables and glaze the crown molding in Room 47.

We appreciate the artistic work done by Maxine Albro to bring more character to the Hofsas House, and we hope you too can admire and recognize her talent to have fond memories of your stay in Carmel-by-the-Sea.