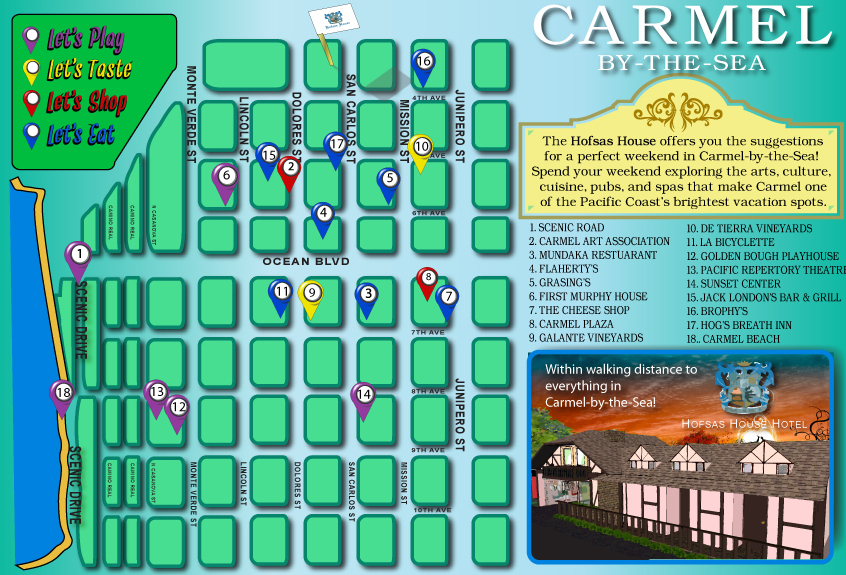 Experience the Hofsas House and all Carmel-by-the-Sea has to Offer!
The Hofsas House offers you the suggestions for a perfect weekend in Carmel-by-the-Sea! Spend your weekend exploring the arts, culture, cuisine, pubs, and spas that make Carmel one of the Pacific Coast's brightest vacation spots.
Start the day with a brisk walk along spectacular Scenic Road where Carmel's trademark ocean views take your breath away — followed by coffee and a croissant at a local coffee house or bakery.
Get a great overview of our village's "open-air art museum" at the Carmel Art Association, a showcase for renowned California artists since 1927, when it became the first art association west of the Mississippi. Then, sample 100 A-List galleries tucked into a square mile of quaint streets and alleyways. Visit www.carmelart.org for details.
Enjoy a wide range of casually elegant cuisine, including a number of Wine Spectator-awarded restaurants. From sushi to Italian to hearty pub fare, Carmel has the best of everything.Enjoy Mundaka Restaurant, Flaherty's Restaurant, Grasing's, Carmel Cheese Shop and so many more!
Experience the charming history of our famed art colony with a self-guided walking tour that starts at Carmel Heritage Society's First Murphy House, a 1902 legacy of Carmel's charming history, and Comstock House. Visit www.CarmelHeritage.org for details.
Sample cheeses and other gourmet treats from around the world at The Cheese Shop, a Carmel landmark for three decades, located at Carmel Plaza. Visit www.CarmelPlaza.com for details.
Sip local and international wines at Galante Vineyards, Southern Latitude Wines, and La Bicyclette, among many others. Enjoy the new Carmel-by-the-Sea Wine Walk.
Enjoy a casually exquisite dinner at one of Carmel's dozens of top-drawer restaurants, followed by a live performance at the Golden Bough Playhouse, home of Pacific Repertory Theatre; the landmark Sunset Center, the Monterey Peninsula's leading venue for top national and global performers of all kinds; or the Forest Theater, the nation's first outdoor live theater west of the Rockies.
Toast to the day's adventures in the authentic pub atmosphere of popular spots like Jack London's Bar & Grill, Brophy's or the Hog's Breath Inn, once owned by Clint Eastwood.
Top off the evening with a beach fire and s'mores on captivating Carmel Beach, rated one of America's cleanest and prettiest.
Contact the Hofsas House today and let us help you plan your perfect weekend in Carmel-By-The-Sea!