Cities often inspire art. Anyone who's been to cities like Paris, Rome, or Prague, however, knows that some cities also are art. Carmel-by-the-Sea, California, is one such city. It's no surprise, then, that it's home to a thriving community of artists — a fact that's celebrated front and center at The Hofsas House Hotel.
Marie-Clare Treseder Gorham, a Carmel-based folk artist, whose distinctive aesthetic incorporates medieval themes and iconography, rooted within the ethos of the California Arts & Crafts movement. Her hand-painted murals can be found throughout town, notably including the Carmel Shell.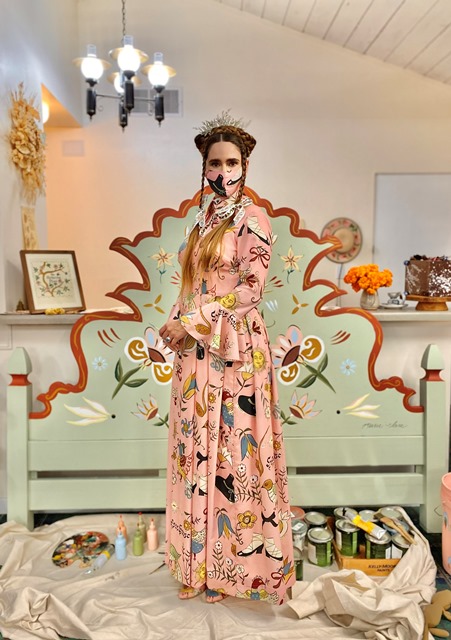 Join Marie-Clare Treseder Gorham for our Artist-in-Residence event on March 26th, 2021 from 4-6pm. There will be an art reception, live painting, and mural unveiling.
The complimentary art-themed reception for hotel guests will include meeting the artist, a sneak peek at the current project in which people can watch and ask questions of the artist, plus wine and custom culinary creations for the event by Chef Ben Spungin of Alta Bakery.
Marie-Clare will showcase her first Artist-in-Residence project of creating a custom headboard and room décor for Room 36, which is a deluxe king room with fireplace, private balcony and ocean view on the street level of San Carlos Street, the same floor as the hotel's lobby. She will also paint a few characters on the entrance door that will highlight the unique nature of the room.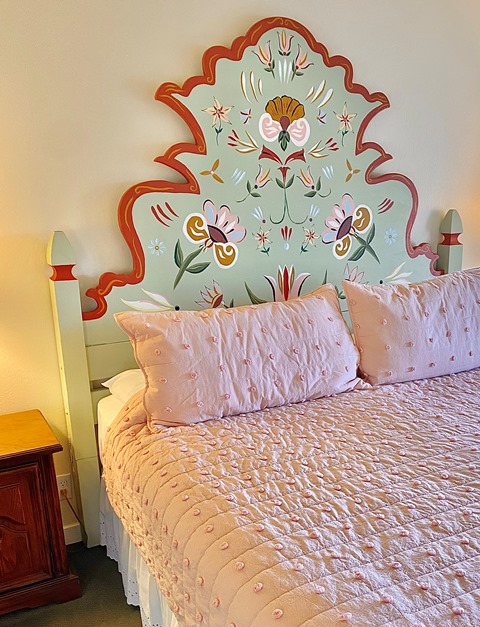 Headboard Details:
· Custom built by local carpenter Gary Doubledee, and hand-painted by artist-in-residence Marie-Clare Treseder Gorham, this unique headboard offers a quintessentially Carmel backdrop for your stay at Hofsas House.
· Inspired by the twin headboards painted by artist Maxine Albro in 1947, this headboard pays homage to both the scalloped silhouette of the original, and the palette of her original Hofsas House mural.
· Using traditional hand-painting techniques, particularly the German folk style "bauernmalerei," Gorham designed and painted this piece as a celebration of the Hofsas House Hotel, and its characteristic art history.
The inspiration for the Artist-in-Residence program began early in the COVID-19 pandemic. The City of Carmel-by-the-Sea created a campaign to promote solidarity in the village. To honor the town's heritage as an arts colony, Gorham painted an outdoor mural called "Carmel Shell" which is located on the corner of Mission Street and Sixth Avenue. The campaign fit nicely with a 100-year tradition of artists drawing inspiration from this storybook village.
(Photo credit: Torryne Choate)
Comments