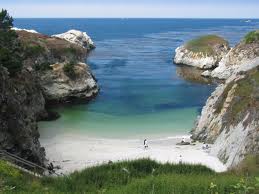 The team at the Hofsas House loves the great outdoors and exploring the Coast. We offer the perfect European ambiance for hikers! Within minutes of the hotel, you can experience hikes in Pebble Beach, Carmel Valley and Big Sur hiking trails ranging from tranquil walks along a coastal waterfall to miles-long ascents through the redwoods and into the rugged wilderness. After a day of hiking, relax your tired muscles in the hotel's heated swimming pool or European dry saunas.
This September we invite you to explore Point Lobos State Reserve!
This beautiful promontory has been called "the crown jewel of the State Park system." It's also an inviting hiking spot, with convenient trails that allow hikers to go for short scenic walks or long traipses.
Once you enter the reserve, take a right and head to the parking lot at Whalers Cove, where you'll begin your hike. From the parking lot, you'll see a staircase going straight up the steep hill. That's the beginning of the North Shore Trail. Take that staircase, and, when you get to the top, take a break by admiring the view. You'll continue to see these stunning views throughout your hike - a perfect excuse to stop and catch your breath! From many of the cliffs, you'll have great views of the Carmel coastline and Pebble Beach. This trail runs 1.4 miles to the Sea Lion Point parking area. If that's enough for you, just follow the paved road back to the Whalers Cove parking lot.
If you're looking for more, take the Cypress Grove loop, which leads through a natural cypress grove and along spectacular seaside cliffs for 8/10 of a mile. You can then continue along the Sea Lion Point Trail for 6/10 of a mile (with views of - you guessed it - sea lions, as well as fascinating rock formations), and follow another mile along the coast along the South Shore Trail. Complete your loop of Point Lobos by taking the Bird Island Trail around China Cove and Gibson Beach, with great views of a Brandt's cormorant nesting area. Backtrack to the Mound Meadow Trail, which will take you across a wooded area and back to the road to the Whalers Cove parking lot.
From September 1 - 30, 2013 the Hofsas House explores nature with its special Hiking Package. Mention this Hiking Packing when reserving a minimum of two nights and receive a $25 gift certificate to 5th Avenue Deli, the perfect place to get your picnic for the hike. 5th Avenue Deli is located only 2.5 blocks from the hotel. When booking online, indicate HHNature to receive this gift certificate upon arrival. This offer is not valid with any other discounts or promotions.