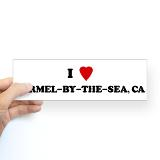 Might this be a start a new of foot sensitive vacationing?
In Carmel-by-the-Sea, the Theis family is celebrating more than six decades of European hospitality at its beautiful Bavarian-inspired Hofsas House Hotel, which is as charming as the town itself. With firm roots in the past, the family is looking toward the future by keeping abreast of guests' every need.
Gas is almost $4 a gallon and the average car causes 600 pounds of air pollution every year. AAA's Fourth of July holiday report cited a decline in car travel and a shift towards alternative modes of transportation. Biking and low-cost interstate bus travel are on the rise. Might this be the start of a new era of footprint-sensitive vacationing? (Let's think positive and say, "Yes.") So, where should you take your next car-free getaway? The Theis Family offers the top 10 things to do without a car in Carmel-by-the-Sea. When was the last time you want on a vacation without a car in California?
10 Best Things to Do in Carmel (WITHOUT A CAR!!)
Walk on the beach and finish your night with wine and food over a beach fire. Fires are allowed on Carmel Beach south of 10th Avenue (Beach fire rules: http://ci.carmel.ca.us/carmel/index.cfm/residents/city-services/beach-rules/).
Bus ride (Route 22) down PCH to Big Sur and back, stop at Point Lobos, Rocky Point, Andrew Molera State Park, the town of Big Sure, and Nepenthe. Ask our concierge or manager for hike recommendations. Check for road conditions and route service to Big Sur!
Bus ride ("Grapevine Express" Route 24) to Carmel Valley and back, stop at Chateau Jullien, Mid-Valley, and Carmel Valley Village. Finish the day with free wine tastings at various partnering tasting rooms in the town of Carmel, courtesy of the Hofsas House.
Take a 20-minute stroll down to the Carmel Mission and tour the Carmel Mission Museum (http://www.carmelmission.org/museum/).
Go on a Carmel Walks (http://carmelwalks.com/) tour to learn about the history of Carmel and some of our unique City ordinances.
Combine food, wine, chocolate and history of Carmel by taking the Carmel Food Tour (http://www.carmelfoodtour.com/).
Go to the Carmel Cheese Shop (http://thecheeseshopinc.com/) to sample cheeses from around the world. It is hard to select just one and then purchase a matching wine to take to the beach to watch the sunset.
Learn about the famous poet, Robinson Jeffers, by taking the Tor House Tour http://www.torhouse.org/).
Happy Hour Tour: Ask our concierge to direct you to an assortment of happy hours (e.g., Vesuvio Restaurant, www.vesuviocarmel.com) right in town for discounted drinks and appetizers, and then finish off the night with a special entre at one of our favorite places to eat.
Arrange a surf lesson for half of the day at Carmel Beach, http://southbaysurfriders.com/. A professional surfer will take you out and ensure a safe and enjoyable time learning to surf Carmel's amazing waves!
If those 10 activities were not enough, the Hofsas House staff picked these great events.
Rent bikes at Bay Bikes (www.baybikes.com) and get a challenging workout up and down Carmel's hilly back roads. Or, stick to the flatland and cruise by the beach for a wave-side bike ride. For the experienced rider, take it up a notch and bike 17-mile Drive into Monterey and back for an all-day outdoor adventure.
For the spa lovers, relax at Kush Day Spa (www.kushincarmel.com), one of the highest regarded spas in Carmel, for one afternoon.
Take wine, picnic—and a date, of course—to a summer play at the outdoor Forest Theatre, www.foresttheaterguild.org.
Rise early or rise late for a wonderful Sunday brunch at Clint Eastwood's Mission Ranch (http://www.missionranchcarmel.com/restaurant.htm). It's only a 20-minute stroll across Carmel. Better yet, return on a weekend night for drinks and live piano playing.
Find all the hidden courtyards Carmel-by-the-Sea has to offer, and see what surprise gift you can discover for a friend.
On a chill day, go coffee tasting at the various local coffee houses in Carmel, Carmel Coffee House and Carmel Valley Coffee Roasting Co, who roast their coffee right in the area.
For photography lovers, Gallery Sur (gallerysur.com) has amazing prints from the area or go to Weston Gallery, one of the oldest photographic galleries, www.westongallery.com.
Drop by the Carmel Art Association (carmelart.org) for details on local artists and the best galleries to explore according to your taste.
Tapas at Mundaka, www.mundakacarmel.com.
Carmel Wine Walk-by-the-Sea – stroll to 12 different wine tasting rooms and taste a flight of Monterey County grown grapes. Purchase a Wine Walk Passport at the Hofsas House for $50 and it includes nine tastings. Because of the cool air, Chardonnay and Pinot Noir are some of the best.
Geocache in Carmel: There are over 20 geocaches within walking distance in Carmel. Take your GPS and test your navigation skills and find some treasure!
Check out the live performances at one of our four theaters: Sunset Center, Forest Theater, Golden Bough, Cherry Center in our one-square mile town.
Olive oil and balsamic vinegar tasting at Trio Carmel on Dolores Street south of Ocean Avenue - www.triocarmel.com.
Create your own custom perfume at Ajne Perfumery in the Court of the Fountains - http://www.ajne.com/.
Visit one of the oldest houses in Carmel, the First Murphy House, home to the Carmel Heritage Society, http://carmelheritage.org/.
What will you do?