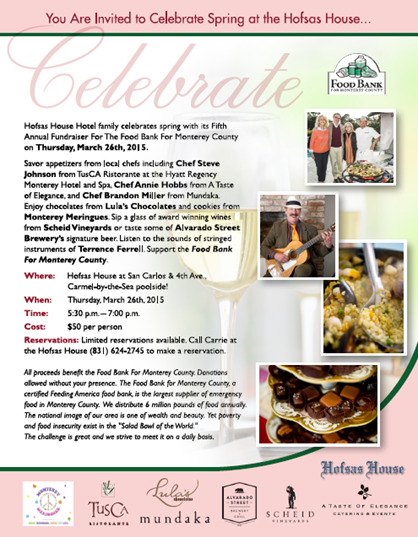 Owner and General Manager, Carrie Theis, announced today that you are invited to celebrate Summer at the Hofsas House with its Fifth Annual Fundraiser for The Food Bank For Monterey County on Thursday, March 26th, 2015. Enjoy a fun evening!
Savor appetizers from local Chef's including Chef Steve Johnson from TusCA Ristorante at the Hyatt Regency Monterey Hotel and Spa, Chef Annie Hobbs from A Taste of Elegance and Chef Brandon Miller from Mundaka. Enjoy chocolates from Lula's Chocolates and meringues from Monterey Meringues. Sip a glass of award winning Wines Scheid Vineyards or taste some of Alvarado Street Brewery's signature beer. Listen to the sounds of stringed instruments of Terrence Ferrell. Support the Food Bank For Monterey County.
Details:
Where:

Hofsas

House at San Carlos &

4th

Ave Carmel - by - the- Sea poolside!
When: Thursday, March

26th

, 2015
Time: 5:30 p.m. - 7:00 p.m.
Cost: $50 per person
Reservations: Limited reservations available. Call Carrie at the

Hofsas

House (831) 624-2745 to make a reservation.
All proceeds benefit the Food Bank For Monterey County . Donations allowed without your presence. The Food Bank for Monterey County, a certified Feeding America food bank, is the largest supplier of emergency food in Monterey County . We distribute 6 million pounds of food annually. The national image of our area is one of wealth and beauty. Yet poverty and food insecurity exist in the "Salad Bowl of the World." The challenge is great and we strive to meet it on a daily basis.