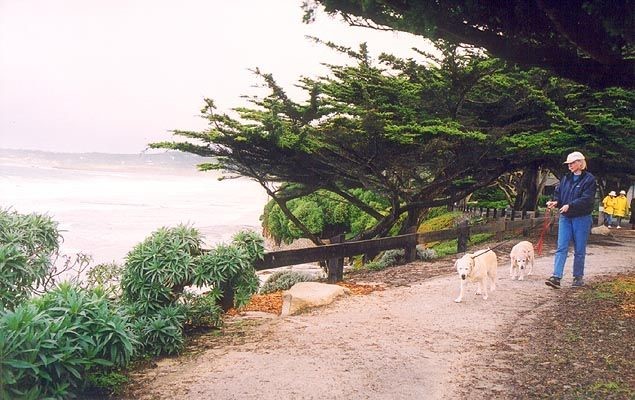 10 Best Things To Do In Carmel
Without a Car
Might this be a start to a new way of foot sensitive vacationing?

10 Best Things to Do in Carmel (WITHOUT A CAR!!)
Walk on the beach and finish your night with a glass of wine .
Bus ride (Route 22) down

PCH

to Big Sur and back, stop at Point Lobos, Rocky Point, Andrew

Molera

State Park, the town of Big Sur, and Nepenthe. Ask our concierge or manager for hike recommendations. Check for road conditions and route service to Big Sur!
Bus ride ("Grapevine Express" Route 24) to Carmel Valley and back, stop at Chateau

Jullien

, Mid-Valley, and Carmel Valley Village. Finish the day with free wine tastings at various partnering tasting rooms in the town of Carmel, courtesy of the

Hofsas

House.
Take a 20-minute stroll down to the Carmel Mission and tour the Carmel Mission Museum .
Go on a Carmel Walks tour to learn about the history of Carmel and some of our unique City ordinances.
Combine food, wine, chocolate and history of Carmel by taking the Carmel Food Tour.
Go to the Carmel Cheese Shop to sample cheeses from around the world. It is hard to select just one and then purchase a matching wine to take to the beach to watch the sunset.
Learn about the famous poet, Robinson Jeffers, by taking the Tor House Tour.
Happy Hour Tour: Ask our concierge to direct you to an assortment of happy hours (e.g., Vesuvio Restaurant, Barmel, Jack London's, Il Fornio and many more) right in town for discounted drinks and appetizers, and then finish off the night with a special entre at one of our favorite places to eat.
Arrange a surf lesson for half of the day at Carmel Beach. A professional surfer will take you out and ensure a safe and enjoyable time learning to surf Carmel's amazing waves!
Did you know the average car causes 600 pounds of air pollution every year? A recent AAA holiday report cited a decline in car travel and a shift towards alternative modes of transportation. Biking and low-cost interstate bus travel are on the rise. Might this be the start of a new era of footprint-sensitive vacationing? (Let's think positive and say, "Yes.")
Here are some reasons walking is better than driving:
It saves money on gas. Lots of it.
It saves the planet. You'd be doing your bit to save the world.
It saves on parking. Don't you just hate having to pay for parking?
It's free. The pleasure of knowing you are getting something for nothing while other people have to pay is not the same as benefiting from saving money. It's even better.
It's good exercise. The benefits are obvious. Ask your doctor.
You'll get more fresh air. It's the best kind.
Walking is fun - and here are some tips for making it even better...
So, where should you take your next car-free getaway? The Theis Family offers the top 10 things to do without a car in Carmel-by-the-Sea. When was the last time you want on a vacation without a car in California?