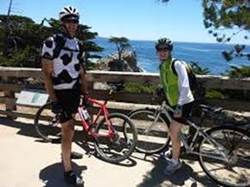 The Hofsas House Invites You To Get Out And Bike! (Available All Year)
The Hofsas House invites you to celebrate the unique power of the bicycle and the many reasons we ride. One of General Manager Carrie Thies' favorite bike routes is about five miles that goes from the Hofsas House, down to Scenic Avenue going south along the Carmel Bay and to the Carmel River. Stop by the Carmel Mission for a bit of history and go along Rio Road and cross Highway 1 and have lunch at Rio Grill. The grilled artichoke is the best!
We can have bikes delivered to the Hotel for a half day or entire day rental or we can arrange to have you pick them up in Monterey near the Coastal Bike Path for a half a day rental.
Special Offer includes 2 Hybrid Bikes with gears for 4 hours for the price of one, a $27 savings, with any two night stay. With 24 hours notice, the bikes can be delivered to the hotel.
Enjoy This Hofsas House Pick! Best Sunday Ride -
Depart the Hofsas House Hotel and bike down to Mission Ranch for Sunday Brunch. Cruise down Ocean Avenue and then follow Scenic Drive around the bluffs of Carmel to the Carmel River Beach. Stop and enjoy the scenery of Point Lobos, check out the birding spot and continue biking through the quaint residential streets of Carmel-by-the-Sea to Mission Ranch! Brunch is served. Ahhh the perfect Sunday.
Don't Forget to Ride Your Bike on Thursdays. Receive Special Offers at Local Restaurants!
HER Helmet Thursdays is an ecology-economy sustainability project offering discounts for people who bike. Discounts are for males and females, visitors and locals. Click here to learn more.