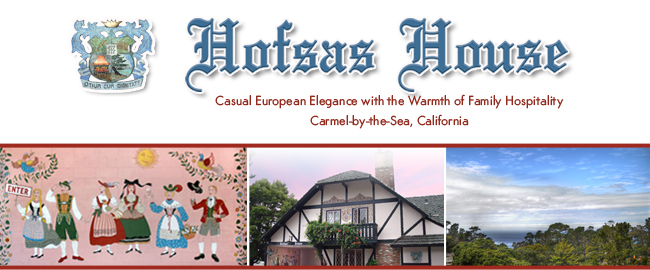 If you're going to Carmel-by-the-Sea, you're probably not going because of the kids. With its ocean views, world-class restaurants, fine arts galleries and darling shops, the picturesque city of some 4,000 inhabitant's allures grown-ups for romantic weekends. That isn't much of a sales pitch for their children.
But don't deny yourself the pleasures of Carmel just because you are toting the kids. There are ways to turn this enchanting kingdom into — if not exactly a kind of "Magic Kingdom" — a travel destination suitable for the entire family.
Here are some of our favorite things to do:
1. The most obvious is a simple trip to the beach. There are plenty to choose from in Monterey County, but one of my favorite spots is the white-sand Carmel Beach. A short walk from the downtown shops, it's a fine place to spend the day on a beach towel, watching the kids build sand castles and frolic in the waves.
2. For a more active vacation, consider contacting Adventures by the Sea, which offers bike, kayak and surrey rentals. Or try Monterey Bay Whale Watch, which leads year-round expeditions in search of humpback and blue whales, dolphins and seabirds.
3. To get the best feel for the city, however, lace up some comfortable shoes and embark on Carmel Walks, a well-regarded tour through secret pathways, courtyards and gardens.
4. Carmel-by-the-Sea has the added bonus of being close to other family-friendly attractions, such as the Monterey Bay Aquarium, Old Fisherman's Wharf, Historic Cannery Row and Big Sur.
5. All that activity should leave the family hungry by dinnertime. The next challenge is sorting through restaurants known for their romantic ambience to find those best options for picky parents and finicky kids. The Forge in the Forest is a natural choice with ample indoor and outdoor seating — including a patio for guests with dogs — and classic American fare that kids love. Rio Grill has phenomenal cuisine (a mix of Southwestern and California) and a setting that won't intimidate parents; a crying baby won't be frowned upon here. A short drive will take you to Fandango in Pacific Grove. Specializing in European and Mediterranean cuisine, it is a particularly enticing destination for Sunday brunch.
And a good way to wrap up a Carmel getaway before driving home.
Family Friendly Story Credit: San Jose Mercury News