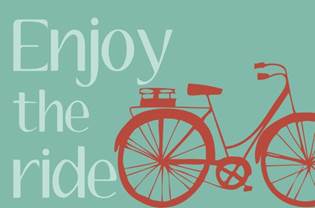 The team at the Hofsas House loves to enjoy the Monterey Peninsula and ride their bikes! They even can coordinate bike rentals for hotel guests.
Here's the top 4 bike rides in Monterey County, including notes on the level of difficulty.
1. Fisherman's Wharf to Lovers Point
(Beginner)"A simple ride along the bike path that runs from Fisherman's Wharf out to Lovers Point and back is definitely very family-friendly," says Knight. The bike path, officially known as the Monterey Bay Coastal Recreation Trail, extends from Castroville in the north to Pacific Grovein the south, but the stretch between Fisherman's Wharfand Lovers Pointis hands-down the most popular section. The path is separated from street traffic, providing a safe environment for children still learning to balance on two wheels and nervous adults returning to cycling after a long time away. The ride provides fantastic views of Monterey Bay and plenty of great places to stop as it winds past the Coast Guard Pier, Cannery Row, the Monterey Bay Aquarium and the harbor seal beach at Hopkins Marine Station.
2. Parker Flats Loop, Fort Ord National Monument
(Beginner) Once an Army base, the Fort Ord National Monument has several paved roads that are a perfect spot for children and adults seeking a more challenging ride than the Monterey Bay Coastal Recreation Trail. "There are so many different terrains that if someone isn't in very good shape they can stay in the flatter sections," Latham says. "Someone who wants a little more challenge can ride in the steeper areas." A good beginning ride is the 5-mile Parker Flats loop, which has just enough short climbs to add a little challenge. Park at 8th and Gigling, the last spot where cars are allowed. Then bike on 8th Avenue south to Parker Flats Road. Take Parker Flats southeast to Eucalyptus. Turn right on Eucaluptus. You'll have a short but strenuous climb on Eucalyptus. Take Eucalyptus to the next segment of Parker Flats, which runs between Welch Ridge and Artillery Hill. Turn right on Normandy, then left on Eighth to complete the loop and return to the parking lot.
3. 17-Mile Drive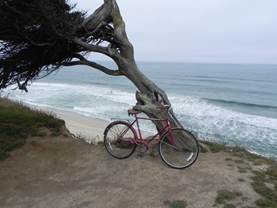 (Beginning-Intermediate) "When people come into our shop, most want to ride into 17-Mile Drive," says Knight. And Pebble Beach's scenic road isn't just popular with tourists. "My favorite ride is doing the morning ride out to the Lone Cypress and back," Knight says. One of the reasons this ride is so popular is that it's easy to navigate. "Keep the water on your right on the way out and keep it on the left as you come back and you won't get lost," Knight advises.
The traditional route begins at the Monterey Bay Coastal Recreation Trail at Cannery Row. After a little over a mile, the trail ends, and riders cycle through Pacific Grove on Ocean View Drive past scenic Point Pinos. Riders then continue on Sunset Drive past beautiful Asilomar State Beach, where they'll catch their first views of Pebble Beach, to 17-Mile Drive. "There's a lane for bikes, so it's very, very safe," says Knight. Riders follow 17-Mile Drive down to Point Joe and around to Seal Rock. "It's a nice place to stop because they have restrooms and picnic tables," Knight says. About a mile further is Cypress Point, which is "a vista," Knight says. In spring, cyclists can see pupping harbor seals. "As you continue on," says Knight, "it turns into an intermediate-advanced ride because you're riding with cars from there on in - there's no bike lane."Knight says the best time to do the ride is in the morning. "There's basically no traffic," he says. "The locals are going through the upper roads to go where they want to go, and the tourists driving will go in the afternoon." The round-trip from Cannery Row is 18 miles to Cypress Point and back, and 24 miles to the Lodge at Pebble Beach and back.
4. Monterey to Marina on the Monterey Bay Coastal Rec. Trail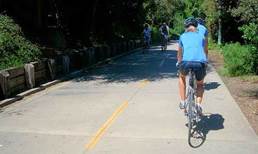 (Beginner-Intermediate) For a different perspective on the Monterey coastline, Knight recommends this ride. "It's more of a bay view," Knight says. It's also a great workout. Riders can choose to tackle the steep hill up the sand dunes at the Monterey/Seaside border, with its reward of a sweeping view of Monterey Bay all the way to Santa Cruz, or opt for the flat cutoff that winds around Laguna Del Rey. Both trails meet up again at the Seaside parking lot for Monterey State Beach, and continue along the dunes and bluffs for miles. "When you get on the bluff out in Sand City it's a grand vista," Knight says. Once riders pass Sand City, they'll reach four miles of open, cypress and sand-dune-lined trail up to Marina, with only other cyclists and pedestrians and the occasional gull or hawk for company. Because the ride becomes so remote, Knight recommends that riders bring a tire repair kit; a flat could lead to a very long walk home.
From Monterey, just take the Rec. Trail north to enjoy this ride. Keep the water on your left to head toward Marina, and on your right to head back to Monterey.