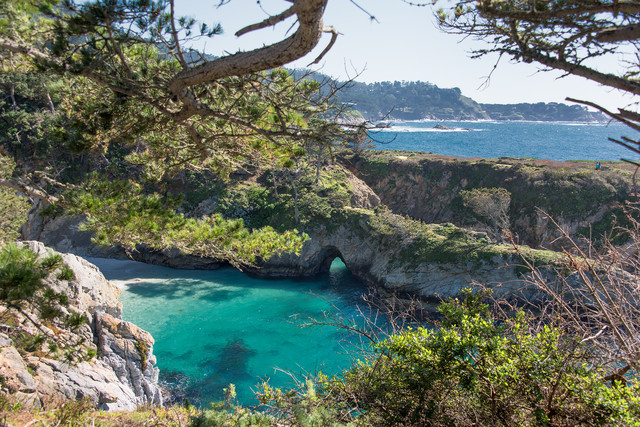 Big Sur has been rocked by a series of natural disasters in the past 18 months, from devastating wildfires to rains that have caused mudslides, rock slides and bridge collapses, including the Pfeiffer Canyon Bridge, effectively cutting the community in half. While famous Big Sur landmarks such as Nepenthe, Henry Miller Library and Deetjens are cut off from the north, there are still plenty of businesses — hotels, restaurants and shops — as well as parks and beaches, open north of the bridge.
While Highway 1 is closed just at the Big Sur Ranger Station, the community and businesses just north of that station needs your support and patronage in these trying times. It will be at least a year or more before a new bridge is in place, so the community is even more dependent on people visiting.
If you're traveling to the Big Sur area on Highway 1, please be extra careful, watch for maintenance workers still working on parts of the highway, let more anxious drivers pass you, use turnouts, designated turn-around spots, legal parking areas and pull over when appropriate.
The Hofsas House in beautiful downtown Carmel is not only the ideal headquarters for you to explore and enjoy the attractions of Carmel, but also to explore and enjoy Big Sur.
The Carmel Chamber of Commerce has a few recommendations for a short (30 minutes or less) trip to enjoy the splendors of the Big Sur coast. Here are a few from www.carmelchamber.org/itineraries:
>Visit the "crown jewel" of the California State Park system, Point Lobos State Natural Reserve, 2 miles south of Carmel. Roads and trails take you to the rocky shore to see otters and seals. Visit Whalers Cabin, built in the early 1850's, overlooking Whalers Cove and Carmel Bay for over 160 years.
>Travel 4 miles south of Carmel and get picnic supplies at the Carmel Highlands General Store or have a sit-down lunch at the newly renovated California Market at Pacific's Edge restaurant at the Hyatt Carmel Highlands with a breathtaking view of the Pacific Ocean and the Big Sur coast.
>Garrapata State Park, 7 miles south, is partially open west of Highway 1, including Garrapata Beach. The park has two miles of beachfront, with coastal hiking. Sea lions, harbor seals and sea otters frequent the coastal waters and California gray whales pass close by during their yearly migration. Garrapata State parklands east of Highway 1 are currently closed.
>Enjoy spectacular views just 10 miles south of Carmel at Rocky Point Restaurant, a wonderful venue for indoor or patio dining, receptions and special events. California Market at Pacific's Edge also has a highly regarded lunch and dinner menu, both recently updated with selections of locally sourced produce, meats and seafood.
>Drive 13 miles south of Carmel to view the 1932 architectural marvel and the "most photographed" span of California coastline, Bixby Creek Bridge. Safely pull into one of the turn-outs to take your own memorable photograph of one of the tallest single-span concrete bridges in the world.
For a little longer trips, check out these attractions, still less than an hour away.
>Journey 21 miles south of Carmel to visit the Point Sur Lighthouse. Tour its historic and still active aid-to-navigation which still guides ships along the Central California Coast. On the National Register of Historic Places and a California landmark, Point Sur is a must-see.
>Just past Point Sur, Andrew Molera State Park offers visitors great hiking and beach-combing, with miles of trails winding through meadows, bluffs, beaches and hilltops. Many trails allow for horseback riding, bicycling and hiking. Explore what it was like to live in Big Sur 100 years ago by visiting the Ranch House, open for visitors on Saturdays from 11 a.m. to 3 p.m. when a volunteer is available.
>Take a break from your Big Sur adventure at Big Sur River Inn located in the village. Renew your spirit at the full-service restaurant and bar enjoying a fabulous dinner in the historic dining room or outside on the deck, the lawn or along the bank of the Big Sur River.
Jeanette Kenworthy of www.seemonterey.com, an excellent website on what to do and see on the Central Coast, has a few suggestions on where to eat and shop in Big Sur. Call ahead before embarking on your adventure to make sure businesses are still open or for road conditions. Here are some of her recommendations:
>Big Sur Lodge Restaurant: Located in Pfeiffer State Park with the river flowing just below the restaurant gives it a beautiful location. Open daily for breakfast, lunch & dinner. Has a restaurant, espresso bar, gift shop and General Store.
>Big Sur Roadhouse: Delicious, locally sourced ingredients with a warm, comfortable atmosphere. Open 8 a.m.-2:30 p.m. daily for breakfast and lunch. Best breakfast sandwich, burger, fries and tacos in Big Sur!
>Fernwood Tavern: Fernwood has a restaurant, local bar, General Store and gift shop. Open for lunch and dinner. Live music most weekends! Ping pong table and heat lamps on the back deck. Great for nachos, cocktails and a selection of delicious ice cream in the store.
>Ripplewood Cafe: This quaint eatery is open daily from 8 a.m.-2 p.m. serving breakfast and lunch. Be sure to try their au gratin breakfast potatoes and homemade cinnamon rolls.
The Big Sur Village shops are open, as are many others. Some suggestions to check out: Big Sur Lodge Gift Shop, Local Color, Darn Glad to Be Here Gallery and Studio One Gallery. Enjoy your Big Sur adventure!