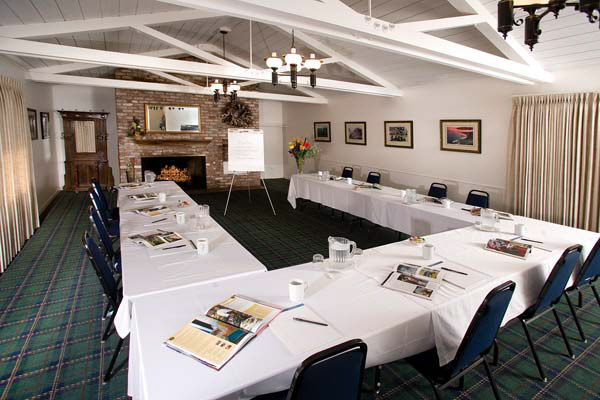 Are you looking for the perfect meeting space for your group? Whether you need a space for a business or leadership meeting, charity or nonprofit group, sewing/knitting/quilting conferences, scrapbookers, and chess clubs, even small wedding receptions, the Hofsas House in Carmel may just be the place for you.
The Hofsas House offers the perfect, welcoming European retreat in the heart of beautiful downtown Carmel-by-the-Sea.
The poolside meeting room has a fireplace, full kitchen and can accommodate a sit-down dinner for 30, a stand-up reception for up to 40, or a boardroom or U-shaped setting for up to 24. It is also ideal for private personal dinner parties.
Groups such as The Food Bank for Monterey County holds an annual 60-person fundraiser at the poolside meeting room, and the Welsh Terrier Club holds meetings here annually.
Hofsas House's boutique setting allows your meeting to take in the natural beauty of Carmel-by-the-Sea while getting some work done. We offer free WIFI, projector, screen and conference phone, if needed. A continental breakfast is included with your room stay and can be served in the meeting room, so you can start your meeting with fresh coffee, French pastries, juice, fruit and yogurt. Coffee and tea, along with filtered water, are provided for you all day.
The world-famous Carmel Beach is only eight blocks away, so you can take in a run or walk in the fresh air of Carmel before or after your meeting. For a change of pace, why not take a picnic lunch and go to Point Lobos with a guide rather than have a typical lunch in a meeting room?
We can also suggest team-building ideas, such as creating a morning breakfast, s'mores and a fire on the beach, a Range Rover Team Building experience, olive oil, balsamic vinegar or wine tasting. Other nearby activities could also include a round of golf, yoga on the beach, surf lessons, kayaking, hiking, and, last but not least, food and wine, historic or art tours of Carmel.
As a long-time Carmel resident and Carmel City Councilwoman, I am very familiar with the area and can help you with all your meeting needs. We love to have guests come to experience this special and magical area of Carmel-by-the-Sea and we look forward to hosting you here. We're just a call away!
Comments