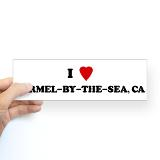 Some getaways can feel so indulgent that you're ready to detox the second you get home – or so exhausting that you feel like you need a vacation just to recuperate. Well, mindfulness is changing the way people travel…one breath at a time.
Carmel-by-the-Sea is a long-time favorite getaway for those seeking natural beauty, delicious cuisine, and charming shops and art galleries. Now this coastal jewel is becoming known as a mindful destination with the launch of Mindful-by-the-Sea – tips, tools and exclusive retreats now available to visitors.
Mindful travel means you arrive fully present, enjoy your time more deeply, and bring that feeling home with you when you leave.
Here are five simple ways to be "Mindful-by-the-Sea":
1. Feel each step – Stroll down Ocean Avenue and venture onto Carmel's white sand beach. Feel the sand between your toes, the sea breeze on your face, and the warmth of the sun on your skin.
2. Take your time – You're on vacation. Slow down. Take a deep breath. Perhaps you get a little lost as you wander through Carmel's hidden courtyards and secret passageways. Let this space and time be fully yours.
3. Savor the moment – Every meal brings opportunities for mindful eating, which allows you to truly taste your food. In everyday life, it's hard to relax and savor every bite. But vacation is a perfect time to take your time and enjoy a fabulous meal at one of Carmel-by-the-Sea's restaurants or explore different wine varietals and their unique aromas amid a walkable wine tasting tour.
4. Relax and reset – Put away the devices and find the magic in your surroundings. From the wind-carved Cypress trees and peaceful hiking trails to the sounds of the waves and the feel of the ocean mist in the air, Carmel's natural beauty is pure inspiration.
5. Explore your potential – Attend a Mindful-by-the-Sea retreat led by one of the world's leading practitioners. Even beginners can learn to enjoy a deeper sense of relaxation, well-being, happiness in the moment, and peace of mind that can continue in your daily life.
Newcomers to mindfulness and seasoned meditators alike are welcome to attend the retreats, as the focus for all is on a "beginner's mind," where everyone brings their curiosity and gives the internal expert a break.
Book your spot at an upcoming Mindful-by-the-Sea Retreat:
• March 7-9, 2018
More information on ways to be mindful when traveling can be found in the new Beginner's Guide to Mindful-by-the-Sea, which is available exclusively to guests of Carmel hotels and inns. The guide's simple tips and reminders will help you slip into natural relaxation instead of trying too hard to enjoy yourself. Find out more about these programs and book a reservation direct with a Carmel innkeeper on Visit Carmel's official travel website at http://www.CarmelCalifornia.com.