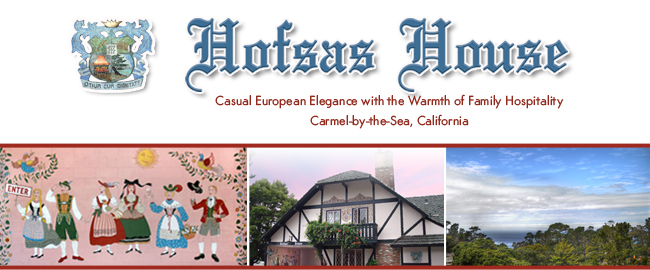 For decades, Carmel, California has been a haven for artists, from authors, poets and actors to painters and sculptors. Today there are more than 80 art galleries within walking distance from the hotel. The Hofsas House is part of that artistic tradition and has been touched by one of the world's most famous artists. Did you know that artist Maxine Albro was commissioned by Donna Hofsas to paint the welcoming mural and the headboard featured in Room 47 of the Hofsas House? In the 1940s and 1950s, Maxine was living in Carmel and was friends with Donna. After the main four-story addition to the Hofsas House was completed in 1957, Donna asked Maxine to paint the mural and add other highlights to the front of the building to enhance the hotel's Bavarian theme. Maxine also painted the three pictures now hanging in the lobby.
The Hofsas House celebrates Carmel's artistic legacy by offering guests its special "Get Artsy Package." This package includes a stay in the Room 47 — the very room Maxine Albro painted! Mention the Hofsas House "Get Artsy" package with the code "HHArt" and receive a gourmet cheese tray and bottle of wine upon arrival.
Carmel continues to be an artist colony and attracts some of the world's most famous artists, including painters, sculptors, and photographers. Hofsas House can help arrange a tour of Carmel's art galleries and artists' studios with Carmel Art Tours. Discover secret passageways, visit hand-picked galleries, both the internationally acclaimed and the hidden gems. There's also an opportunity for a chance encounter with an artist at work in a Carmel studio. Cost is $25 per person, reservations are required, and participants meet for the tour at Carmel Visitors Center. Info at www.carmelarttours.com, 800-979-3370.
Comments